DANIELLE PONDER w/s/g Max Childs
Fri
February 28, 2020
9:00 pm
(Doors:

8:00 pm

)
Funk 'n Waffles
Ages 18 and Up
$10.00
Danielle Ponder
When Danielle Ponder and the Tomorrow People hit the stage things get torqued up quickly like a tent revival during tornado season. Named Top Ten Bands to watch by CityPaper, and winner of the 2015 and 2016 Roc Awards, "Best Band", Danielle Ponder and the Tomorrow People transcend musical genres with a blast of deep, powerful groove and soul. The band is the groove while Ponder's pipes keep it rooted in soul. And according to Ponder, soul is more than a sound.
"Soul music is something you feel," she says. "It gives you goose bumps."
This Rochester, NY Native has spent the past years rendering goose bumps by perfecting her style and charismatic performance. She sings, you listen, you melt. The result of her focus and dedication is a tone that is both enchanting and seductive along with a riveting, honest stage presence. It is this voice that has helped her secure gigs opening up for powerhouses such as George Clinton, Ledisi and The Roots. The band has also completed two successful European tours. Boyd Kletter of Bourbon Street Blues Club in Amsterdam said "Danielle shines bright both on and off the stage. She's truly is a star!"
In 2016 the singer released her debut EP Blow Out The Sun. Soultracks.com said "Ponder's vocals combine the spirit of the church with the speak-truth- to-power assertiveness of a movement leader. " Jeff Speak of the Democrat & Chronicle wrote "Ponder's tough-sounding vocals on "Three Word Revolution (I Love Myself)" is a defiant call to self worth. That title track feels custom built as a room-shaking anthem for women in the audience." In 2016 the band would also enter the AfroPunk Battle of the Bands contest, where they surpassed hundreds of bands and made it to the final four.
To Ponder, the audience is integral to the performance. They are, in a sense, part of the band. We are all tomorrow people.
"When I get on stage I want the audience to be just as important as the musicians. I want to hear them, feel them, and see them dancing and moving."
And the crowd does just that. This daughter of a preacher take the audience to church, as she dances across stage and belts out her notes, it is clear that her gospel roots have had a strong influence. This sensational singer also lists powerful influences that lit her fuse like Nina Simone, Big Mama Thornton, Koko Taylor, and Lauryn Hill. Ponder opens her mouth to sing and it's readily apparent; there's another name that belongs in that pantheon as well. Danielle Ponder, and her time is now.
Max Childs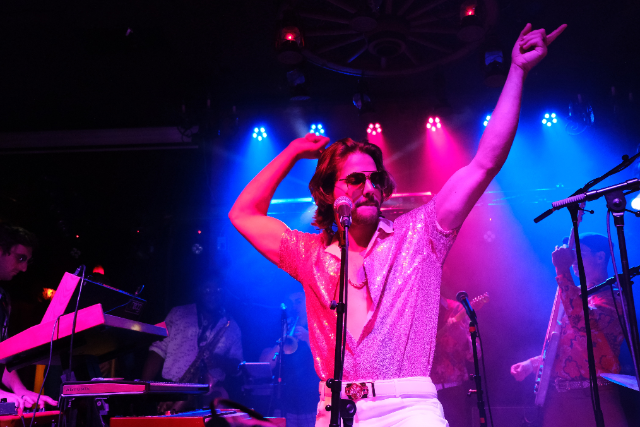 Max Childs is a contemporary pop songwriter/band from central New York.

Max Childs began his musical journey at age 6 when he began private study on piano and cello. His parents being musicians, Max quickly found a love for music and fueled creativity by practicing composition. At age 11, he was commissioned to write a piece, "Jungle Monkey's", for the Cornell Chamber Orchestra. In the year following, the Little Rock Symphony Orchestra of Arkansas commissioned a piece by Shuhan he titled, "Alchemy." After years of private Western Classical study, Max changed focus and began learning American Classical music (Jazz). This shifted his composition into a singer-songwriter style and he started blending jazz harmony into his pop songs, finding influence from Stevie Wonder, Quincy Jones, Queen and Allen Stone to name a few.

On March 1st, 2019, Childs released his first single, "Last Summer" on all digital listening platforms.